I took the time this week to dive into a site called HookupsFinder.com. If you find yourself on this website, then I'm going to go ahead and advise that you hit the back button pronto. I hate to sound like a jerk, but the truth is that nothing good happens on this site for the consumer.
At least that's my take on things and I'm going to dive in deeper below if you keep reading…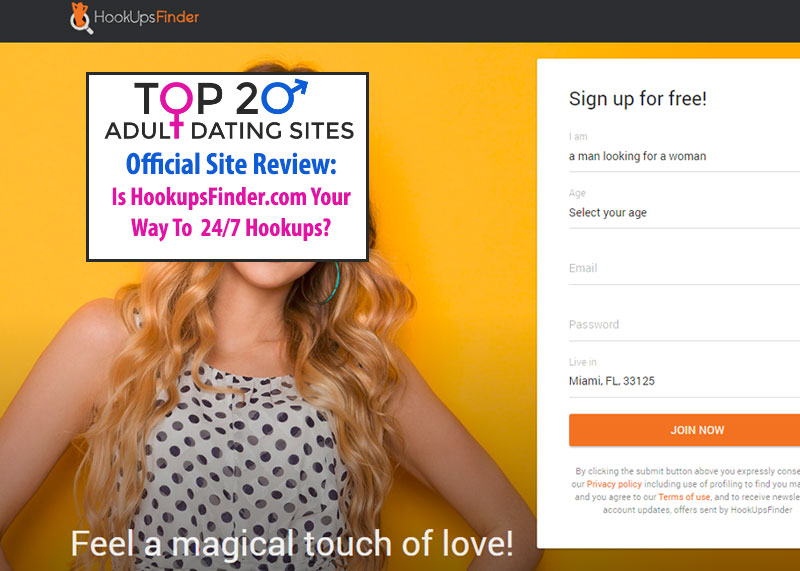 My Review of HookupsFinder
I'll kick things off by saying that this site looks and feels like a real site. That's their job and what they've set out to do. Seriously, HookupsFinder may give off the appearance of a legit site, but any basic inspection will reveal that it is yet another scam site.
Scam Sites
These scam sites are everywhere and they only exist because they work like a charm. The trick is that they resemble legit dating sites in both style and presentation. But once you sign up to interact with the community, you will quickly find that it is just a plain old money grab.
It doesn't matter how hot the ladies look or how sleek the website design is. The whole point is to take your financial information so that they can exploit it for their own gain.
The Offers
This site tries to pretend to be on the up and up and offer typical packages. The price ranges from five dollars for a three day trial, up to $68 for a six month trial. They claim to offer typical features you will find on a dating site.
This includes messaging and search features. However, this is a site that is flooded with bots and likely does not feature a single real female account. This is obvious because once you sign up you are immediately bombarded with private messages and emails, even before you get the chance to set up your account.
Does That Make Sense?
No, it doesn't make any sense, since these alleged women would have nothing to base their interest off of, and you've been signed up for all of five minutes. However, this is how the HookupsFinder scam works. They try to make to you think that all these women are interested in you and want to hook up.
The moment you try to talk back to them, you are hit with the prompt to sign up for a membership. You won't even be able to read the messages you get until you sign up, that's how desperate they are for your sensitive information.
Notifications Lead The Way
A trick unique to hookupfinders.com is their use of notifications. Once you sign up it will say that women have browsed your profile, winked at you, or added you as a friend. This is to make you think that people are interested with your account.
However, it's clearly stated in the terms and conditions that the company sets up accounts as a means of promotions, and that every account on the site is not real. They also say that the staff will operate some accounts on the site, but if they operate some of them, it's safe to assume that they operate most of them and that nothing is real.
Messaging, Messaging, Messaging
In fact, when you start to check the messages, you start to see repeating themes and phrases. This lets you know it is actually computer software sending you these prompts, just so you upgrade to a paid account assuming it's a real girl.
When you do a reverse image search on the photos they come back as stolen from other websites, mainly porn sites and cam girl sites. Not even the photos are real. When you see a place engaging in practice such as this, it's obvious the whole thing is a scam and you should stay far away.
Final Verdict: Stay Away From HookupFinders.com
The site will not lead to hookups, ever. So it's best that you stay away from the network and anything that's connected with this network. That's just the way that I see it really.
If you want to find the fish and by "find the fish," I mean get laid, then you need to use one of the top 20 sites that I've outlined on my homepage and see what happens from there. Just do it and see what happens, you'll be happy, I'm sure of it.