Are you a fan of dating people outside of your own race? If so, then you're in the same boat as myself and millions of others living in the world today. The only problem is that it's quite difficult to find people to get romantic with in this situation. That's why there are interracial dating sites that exist today. Some good and sone bad. Take for example Afroromance.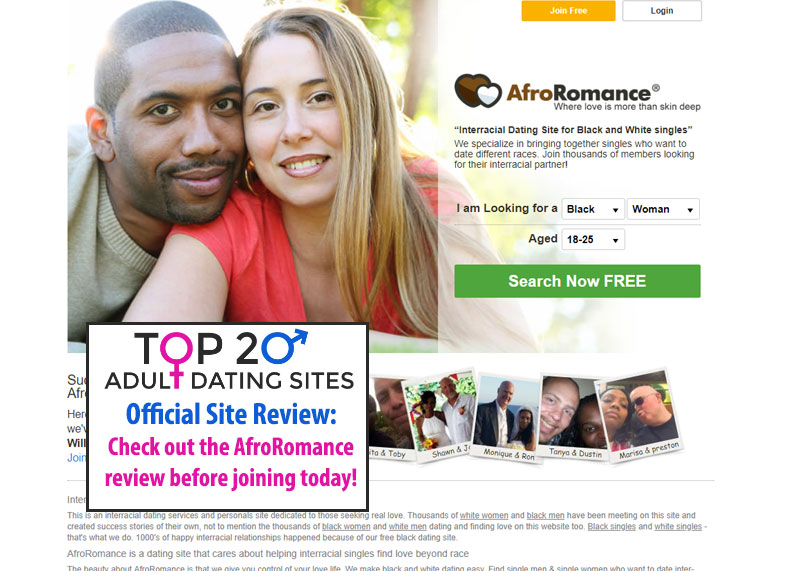 My Afroromance App Review Reveals All The Details
I figured I'd start with a basic overview of things and not sugarcoat anything. Here it is…
Afroromance does a great job at being a multi ethnic dating site, but it doesn't go a whole lot further than that. As far as the features it offers, they tend to be pretty generic and nothing special at all. Of course, that's not to say that they don't work. They're perfectly adequate and that's essentially the overall feeling of the entire site.
It's adequate, but nothing special. You'll be able to search and send emails, but that's about it. If you want to take advantage of the upper tier features, like creating private chat rooms or making your profile a priority, you'll have to pay.
The People
The people who use the site are generally friendly and fun to talk to. They all know what they're looking for and what they like. They go after it and you won't find yourself talking to too many people who disappear. If you know what getting ghosted is like, then you know it sucks – big time.
Good news is that they're serious about meeting up and they never really shy away from it (based on my research). If you're on the fence as to whether or not you want to take the plunge, you may find yourself at a disadvantage. The typical user base member simply won't stand for it and you'll find yourself with not a lot of people to talk to.
Searching For Love
The search function works really well and the results that you get back are pretty much exactly what you're looking for. It's all based on the interests in your profile, so it's in your best interest to fill it out as much as you possibly can. The more you write, the better the site will work and the more matches you'll be getting.
It's the kind of site where you have to put the work in, but you'll be rewarded in the long run by conversations and maybe even people that you can meet up with.
Mobile Access
The one place where the site falls behind is the mobile access. It's not as good as the desktop site and it's pretty frustrating to use. Not only does it never frame itself properly, but it barely runs. A simple search will often result in frozen pages and it's just no fun to use.
There's no app for the site, so if you're not at home on your computer, then there's little reason to want to use it. If they could simply make it more accessible, then it could turn into a great site. Until then, it's just okay.
Conclusion: Afroromance Isn't That Bad, It May Work For You
There's no problem with signing up for Afroromance. It's not a scam and the user base is active. The profiles are real and people want to interact with you. It would be nice if it had a little more to offer, though. There's just nothing new going on here and the lack of a mobile site is a real downer.
If you want to check it out, then you won't run into any problems. As long as you don't mind the lack of exciting features, you may just find that it's the perfect fit for you after all. If you're looking to have an interracial encounter, then I suggest getting into this network here. It's the best online for casual interracial meet ups, hands down.
Other Interracial Dating Reviews: