Looking for something on the "erotic" side? Well, look no further than Erotic Affairs. That is if you're looking for something erotic that will cost lots of money and perhaps not lead to hookups (nor will this site here). If that's what you're aiming for then BOOM you just about found it!
I wrote this review covering EroticAffairs.com and all that they do so what you and many other horny consumers can learn just why it fails to deliver. Here's what you need to know about the site and why I choose to avoid it…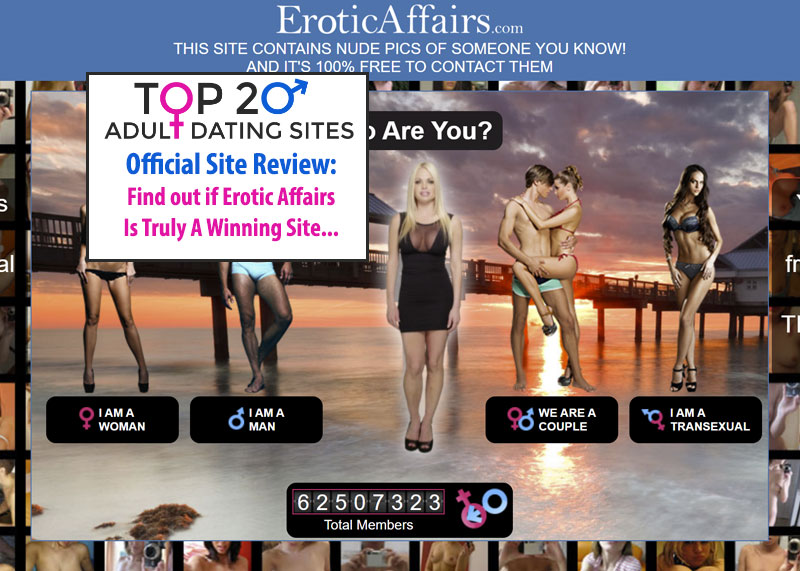 Review of EroticAffairs.com Tells All
You should always check a site out to make sure it works before you start paying for it. Lots of dating and hook up sites require you to pay for your full access to all of the features. It makes sense for legitimate sites. They need money to operate. You can't just offer a service for free.
Unfortunately, there are plenty of sites that are willing to charge you for nothing in return. That's what you get with Erotic Affairs. This site is dedicated to helping men and women cheat on their spouses. At least that's what they claim.
In reality, they're just trying to scam you out of your money. All you have to do is create a free profile to see what's going on. The scam is obvious in the first few minutes of your time on it. That's why it's best to stay away from it.
You'll Get Tons Of Messages From "Cheating" Women
The first thing that happens is your inbox filling up. You'll start getting messages from women as soon as you sign up. This is when you have to sit back and ask yourself how likely that would be. Remember that this is a cheating site.
It's meant to be filled with attached women who are stepping out on their boyfriends and husbands. How likely is it that these women are going to have profile pictures of their faces posted? How likely is it that they'll use those profiles to send messages to any man they come across?
If they're looking to cheat, it's not going to be long at all before they get caught. What's actually happening is that the profiles are fake and the messages are sent from the site. There isn't a single real woman on this site.
They Will Trick You Into Upgrading To Premium
There's a very specific reason that this happens. If you want to read the messages that you're getting, you have to upgrade. Only premium members can read their messages and respond to them. If you have a full inbox, you're much more likely to upgrade so you can talk to the women sending the messages.
That's when you realize it's all a scam…
The messages are sent by bots and paid employees. It's all done to make you think that upgrading is the best thing you can do for yourself. Afterward, you'll realize there's no one to actually talk to.
Conclusion: Erotic Affairs Is A Waste Of Money
Upgrading your Erotic Affairs membership isn't a good idea. Not only is it expensive, but it's also completely worthless. There are no real women to talk to here. The messages that you get are fake. The site doesn't exist to help you hook up. It only exists to trick you out of your money and that's it.
There are plenty of real sites out there that will actually work for you, not against you. Give them your money instead of this EroticAffairs.com nonsense. It has nothing to give you that you actually want. If you're looking for the good stuff, then read the front page.