Social apps are super popular today. Things like Kik, Snapchat (not Snapsext.com), and Instagram are used by the typical consumer to try and find sex. Guess what, they typically fail and when they do, they search for other or 3rd party tools. Those tools don't work usually and most are even scams. Which brings me to the topic of today, Kikfriender.com. This is the so-called Kik aggregator that so many people attempt to use but get nowhere doing so! I've got a lot to share with you about this site, so listen closely, PLEASE!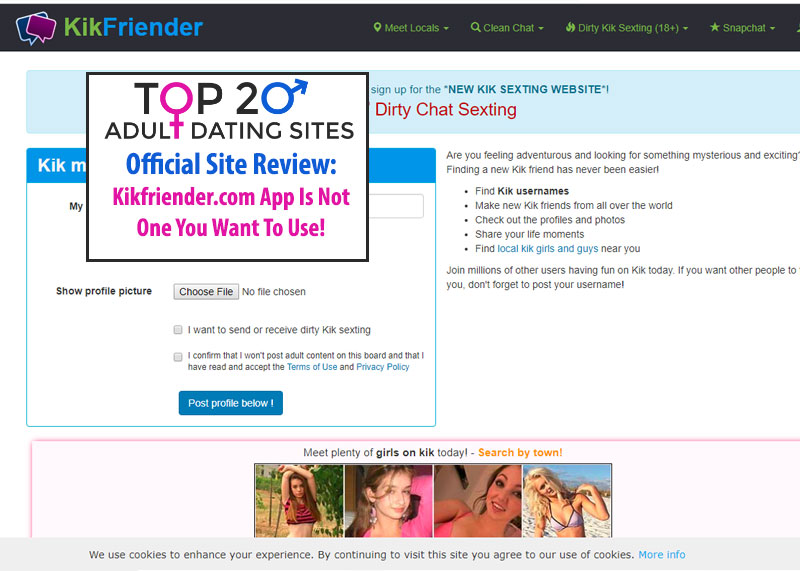 Kikfriender Is Not What You Think – Read My Review
People are always looking for new ways to meet and hookup, and because of this, there will always be new and innovative scams that are created to take advantage of that. Kikfriender is one such scam, where they try to exploit the popularity of a legitimate platform like the Kik messenger app, to scam people out of their hard earned money. Though Kik is used as a traditional messaging app, it is also popular on the dating scene to use for sexting. Kikfriender claims to have a database of people who are signed up just to use Kik as a dating sexting app.
The Overview Of The Scam
You have to understand that while there are real people on kikfriender, the app has been flooded by scammers as a way to take advantage of people. There is a section on Kik labeled Dirty Kik User Names, where you are led to believe people who want to hook up are congregating.
The reality is, there are a variety of scammers who go out their way to set up fake profiles they use to try and take advantage of unsuspecting people. What they do is steal images from all over the internet, and then set up an account. They then try to pretend to be a hot girl who wants to hook up, and that's where the scam begins. The same action that this site takes as well.
Hot Girls Desperate = Red Flag
The fact that hot girls are suddenly so desperate to hook up with you should set off alarm bells. What attractive girl has to be so desperate to get attention? The scammers knows that there are guys who want nothing more than to be with a hot girl, and they're trying to exploit lonely and horny guys.
There's no way this collection of hot, bikini clad women are just hanging out on this app, looking for any random guy to hook up with. All of these pictures are ripped off of amateur porn sites and cam girl profiles, that's why they are of professional quality and so suggestive. You have to understand there are no regular girls on this app.
Tons Of Text Messages
If you're unlucky enough to not realize the scam at this first step, you will then get solicited for the true scam. You will start to receive texts from this supposed hot girl, except all the messages will be links to another site.
If you go to this site, it will promise that you will be able to see a gallery of naked pictures of this girl, if you only download their app to verify your information. The scam here is that they are paid by third party app companies to get as many downloads as possible.
Objective Is To Get You To Download
So they try to lure you to download these apps so that they can get paid. It may not seem like that big of a deal because you don't have to give up your credit card information, but you shouldn't trust third party apps that are not verified.
Letting these apps have access to your phone enables all types of people to find a backdoor to your information and makes you less safe. Ultimately, you should avoid clicking dangerous links, and not trust people who try to trick you with naked women to download their content.
Conclusion: Kikfriender Isn't Your Friend, Stay Away
Okay, the Kikfriender site will not get you anywhere. Seriously, I mean absolutely nowhere at all. This site is perhaps the work Kik aggregator I've ever seen. You will not meet anyone that's willing to have sex with you. That's the bottom line and truth and I'm sticking to it. You want sex, then start right here.