I've been testing and trying a bunch of dating sites over the years. One of the sites that I've recently dove into is LocalSexToday. This is not your typically dating site and certainly not one that makes the top 20 list. However, I'll leave that for you to decide. What you'll want to do is read my review in full to learn the ins and outs of this website.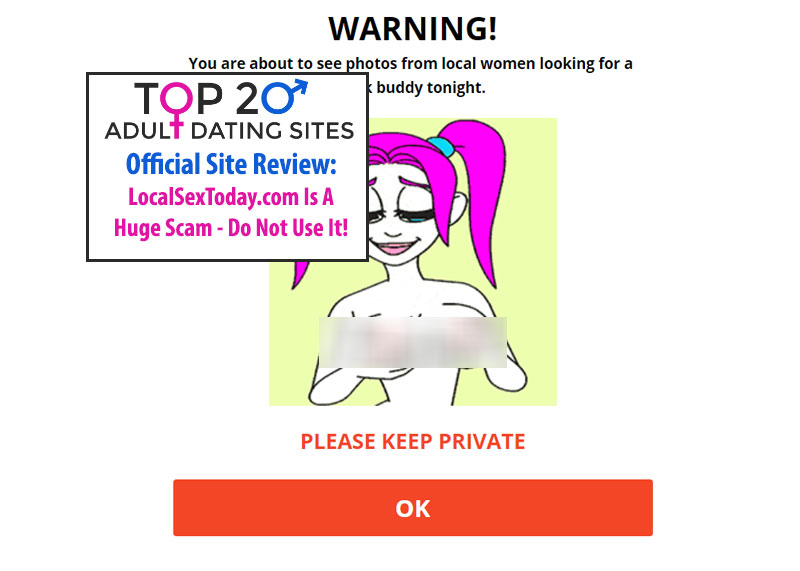 My Complete Rundown Of LocalSexToday.com
You can head to LocalSexToday if you really want, but you're not going to find anything that the title offers. In fact, you're not even going to find a real site. What's going to be waiting for you is a feeder site. That site is going to send you to one of two different sites that will try and scam you.
It happens a lot and this is just one more example of a scam that makes companies more than enough money to keep themselves in business. If you find yourself getting curious about it, just ignore the desire to check it out for yourself. 
The Profile Creation Tells It All 
When you try to make a profile, you're going to be redirected to one of the other sites that focus on MILFs and their libidos. From there, if you continue trying to sign up, you're going to hit with all of the normal trickery that you would expect from a site with a name like Local MILF Selfies or Bone a MILF.
It's a good rule of thumb that if a hook up site has a ridiculous name; it's probably not the most honest place on Earth. They're clearly going to be trying to make sure they take advantage of someone. 
Messages Flow Like Bad Sewage 
What follows is the same old game that you always get wrapped up in. As soon as your profile is complete, you're going to start getting messages from women on the site. Naturally, you won't be able to respond to a single one of them unless you pay to upgrade your profile.
The second you give in and give them your money, they're all going to disappear. It doesn't matter how many responses you send to these messages, you're never going to hear back from them. They'll already have gotten what they want, so the bot programs can then focus on other new people. 
Bots, Bots, Bots 
That's right, all of the messages that you were getting were sent out by bot programs. A real person never saw your profile and never tried to talk to you. The profiles were created by the site with the express purpose to tricking you into thinking women were trying to talk to you.
That's why the site is set up to only let you send messages after you've paid. That's the only reason they exist. They're nothing more than a place to waste all of your money and get absolutely nothing in return. 
Conclusion: LocalSexToday Is Really Bad, Do Not Use It! 
No matter what you're looking for in a hook up site, you're not going to find it here. LocalSexToday is a total waste of time. You're never going to talk to anyone and you're never going to meet anyone. They only exist to try and separate you from your money.
If you're really looking for a site that works, all you have to do is look. They're definitely out there and they can change the way that you look at your dating habits Finding a great site is an amazing feeling, but this isn't one of them. 
If you're looking to use a local sex site, then you might want to give this site here a try.