Today I've got another update that you're going to want to check out. The topic, none other than an escort dating site. It's similar to the typical TNA Boards that exist out there today. That said, you need to read my Private Delights review…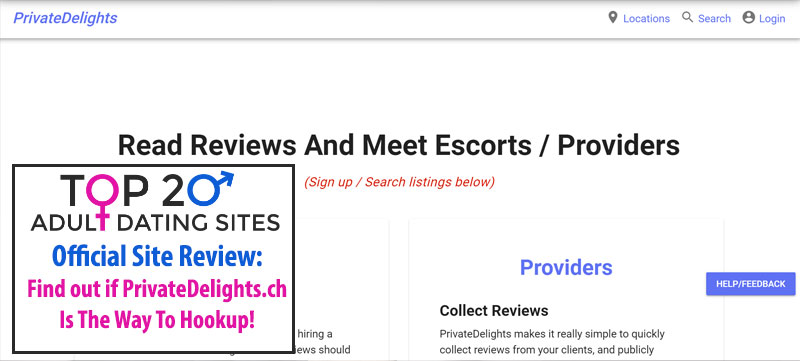 Private Delights Escort Site Review
Private Delights is an escort site located in Switzerland, that has branched out to include women in locations across the United States and Canada. PrivateDelights.com is not a standard "hookup" website that operates on concepts like "matching" and "chatting." Instead, it mimics classified ads and websites. Classifieds are very simple two-way ads that are created by someone offering a service. The service provider creates the ad, and the ad is answered by someone who is seeking the service.
What Does This Mean?
Just as in a traditional classified, Private Delights is a two-way ad. The "provider" of the service (and creator of the ad) is the escort. The "client" of the service is the website user who is seeking out the escort. The service is any number of paid sexual escapades.
The website includes two interfaces (or entrances to the site): one for providers and one for clients. From the provider "entrance", women can create personal ads about their escort services. From the client "entrance" website users can browse and view profiles for providers in their area.
Is It Credible?
There is plenty of evidence that suggests PrivateDelights is credible. In each location, there may only be a few tens or hundreds of provider-profiles listed. That may seem troubling… of course, you want to find the perfect escort that suits your tastes!
However, this may be a good sign. PrivateDelights doesn't allow just anyone to create an ad. Before a girl can create an ad, she must go through a verification process which ensures that her shared information is accurate.
How Does It Work?
Once a provider is verified, she can create a personal ad for her services. These ads usually include her pictures, the services that she offers, the prices for her services, her accepted methods of payment (including Bitcoin through Coinbase or the Cash app), and her contact information.
When a client views her ad, they may also find reviews from past clients. These reviews are key because they allow for a mutual screening process between providers and clients. If the client is interested, he can reach out to the provider directly through her listed contact information. Since clients contact providers directly, PrivateDelights takes relatively no responsibility for the actual "hookups."
After the service is completed, the client may choose to add a review of their own. If you write a review, it is important to keep in mind that it should not include any personal information (yours or the provider's) and that there should be no specific information about what happened "between the sheets".
Conclusions On PrivateDelights
PrivateDelights is not a "hookup" website! Membership will certainly cost some money and escort services can be pricey. However, if you are looking for this kind of sexual relationship, this site may be perfect. The site is easy to use.
The profiles are simple and concise, with hot, non-photoshopped pictures that show you exactly what you're getting. Take comfort in knowing that, through PrivateDelights, you will likely find a sexy and real girl to fulfill your desires. However, you should NOT accept this as a dating site because it's not. You'll want to give Fling.com a shot and SnapSext.com as well way before using a site like this.