Have you been to the United Kingdom? This site called Shagcity is one that many people know there. The URL for this site is Shagcity.co.uk. Here at top20adultdatingsites.com, I've covered so many sites. This one is no exception to the rule. If it exists, then I want to cover it – good or bad. Unfortunately, this review lays out pretty much all the negative things about this site. That's because it's all negative – sorry, not sorry!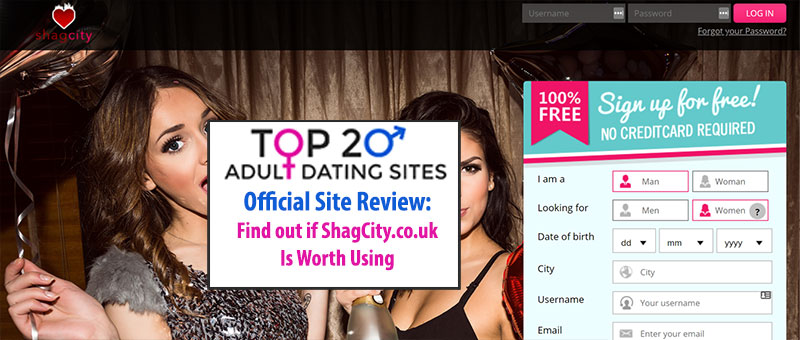 Shag City Review (It's Just Scam After Scam)
There are plenty of scam sites on the internet. In fact, there are probably more scams than legitimate sites out there. The scams take on many different forms. There are more ways to trick you out of your money than there are ways to earn it.
There are even some sites that wrap all of the scams up into one big site. If you recognize one of the scams, you'll still fall prey to another one. That's what you get with a site like Shag City. This one goes out of its way to scam you in every way possible.
The only good thing about it is, using the site will show you how all of the other sites do it. You're going to come across other sites that employ one scam or another that this one uses. That still doesn't mean that you should ever make the mistake of visiting it.
Create A Half-Ass Profile
If you want to see it all in action, just create a free profile. Don't enter any information about yourself, though, Just keep it all as empty as possible. You certainly don't want to upload any profile pictures. Only put in the information that you have to and nothing more. Then all you have to do is wait a few minutes…
What's going to happen is that you're going to start getting messages. You're going to get a ton of them. They're going to fill up your inbox and they're all going to seem to come from people that you really want to talk to. It doesn't make any sense if you stop and think about it.
Let's be honest with ourselves, no woman is going to spend her time sending out messages to people that they can't see. They're already getting more than enough messages from the men on their dating sites.
Check Out The Photos Published By Members
Now just take a look at the profiles that have been sending you the messages. You're going to have plenty of them to choose from. Pick a few and run a reverse image search on the profile pictures. You can do it for free in a few seconds.
You're going to see that the images are all over the internet. That's because they're just stock photos. The site buys or steals them and pastes them on top of the fake profiles then uses them to send you fake messages to trick you into paying to respond to them.
Conclusion: Stay Away From Shag City
You don't have to visit Shag City. It doesn't have anything to offer you. It's just a scam site. It will trick you in one way or another. You can find many better sites out there. There are plenty of sites that have actual people on them for you to talk to.
Find a site that doesn't start sending you messages as soon as you create a free profile. That's always the first sign that you should back out of a site and never look back again.
---
Recommended Articles To Read: