I almost fell off my chair when I came across this website. No lie, it's called SPdate.com and I really didn't know what to expect other than lots of sex. The thing is, there's none to be had here with this. None at all, seriously and you'll quickly learn the ins and outs of it all if you simply take the time to read the rest of my review.
Before kicking things off here, I'll tell you why I was drawn to the site and sucked in so to speak. One thing that really drove me crazy and caught my eye was,
"Smart Dating. Real People. Come on, it's easy&fun."
This was something that I instantly was drawn into and I wanted to take advantage of. Also, the fact that they advertise the site as being able to put you in contact with 100 people per day, that was very appealing to me. Now, here's my real review and what I think about all this…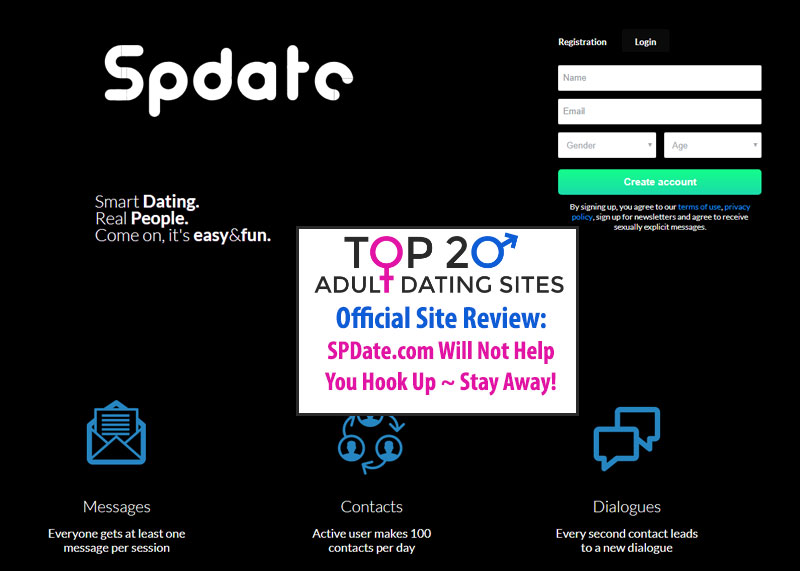 The Truth About SPDate.com (No Lies, All Truth)
It's amazing how many dating site scams are still up and running, even after they get a reputation for being fraudulent. This continues because there are always consumers who are vulnerable to being taking advantage of for the sake of a connection, and because these sites protect themselves in their terms and conditions so that they are not liable for defrauding you.
SPdate.com is one of the more notorious scam sites running, and it's tied to a number of other well-known scam sites. Though it seems like they should've long been shut down, SPdate.com and sites like it remain because they are very clever when it comes to exploiting consumers.
The Legit Look That Wasn't
Their first play is always to appear as legitimate as possible, and this is by copying the font, layout, and design of other popular dating sites. They offer features you would expect like live cams, search features, private messaging, and top members.
What's different about SPdate.com is that it is legitimately free to use. But it makes you wonder, if the site is not filled with any real women, why are they giving their services away for free. This is because often just having you on their (non-secure) network is enough to gain access to valuable information.
Instant Emails
What should have you concerned right off the bat is the amount of emails you immediately receive once joining the site. It just doesn't make any sense that all of these hot women would want to talk to you minutes after you joined.
You won't even have time to put up a picture or fill out a profile before someone is writing to say how great you look or how you're a match. You have to understand that all of this is a scam. None of the girls that are messaging you are real.
Not only are the profiles and pictures fake, but the messages you are receiving are generated by computer software. All of this is designed to get you to sign up for a membership package in order to talk to them. Only a shady business would employ such tactics.
Paid Workers Will Not Bang You
You will find real people to talk to on the site, but those people will be paid contractors and employees of the site.
None of them are the models you see in the picture, and there's no guarantee that the people they hire are even women to stir activity on the site. What's crazy is that you literally can't reach anyone who works for the site. There is no customer support, no way to reach anyone by phone, no privacy policy and not even a terms and conditions!
Normally, using the terms and conditions is the manner in which they can find ways to not be held responsible if you are defrauded by them. This would lead you to believe that SPdate.com really exists as a portal to hopefully get you onto more dangerous sites, or to expose your credit card information just by frequenting the site. This place is a waste of your time, even if it's for free.
Conclusion: You Heard It, Don't Bother With SPDate.com
The SPDate.com website is one to always avoid. It's not a good site, not going to help you hook up and it's certainly not worth the money you're spending on any premium membership.
If you disagree with me, then give it a shot, but I think you'll be very disappointed if you do. My advice is to stick with what works (the top 20) and avoid all others.