Have you ever heard of a dating or hookup site called True Booty Call? It's one that's supposedly great, but I wasn't about to drink the Kool-Aid that everyone in America likes to drink. HELL NO! So, what I did instead was research TrueBootyCall.com in order to determine whether or not it was a solid site. This review shares the bulk of my findings and what I've discovered as a result of using it. You've been warned…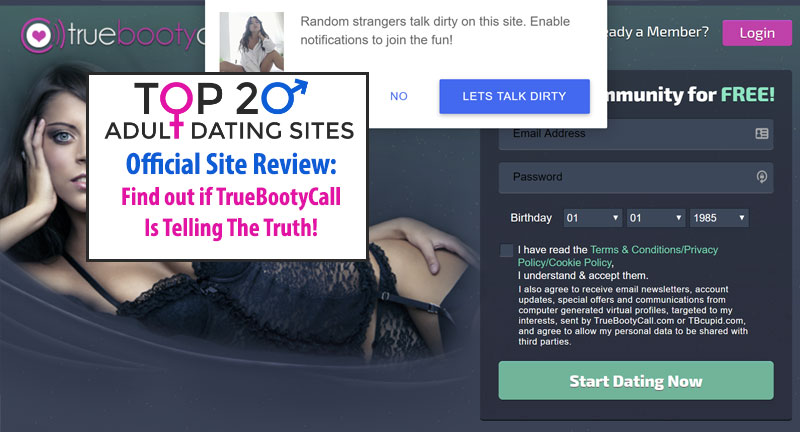 True Booty Call Review/Report
In your search for a hookup site that actually works for you, you may come across True Booty Call. If you do, stop everything. Don't waste your time there. Back away and never look at it again. The site is nothing but a scam that's trying to trick you out of your money. They use the oldest trick in the book and it works way too often. If it didn't, they wouldn't be doing it.
The sad fact is that far too many people fall victim to what they have going on. All it would have taken was a few seconds to read the terms of service.
They spell out exactly what they're doing and give you every reason that you need the pass the site up as soon as you find it. You should always check out the fine print to make sure you know what you're getting yourself into.
They Use Fake Profiles To Lure Users Like You In
The one thing that the site is after is your premium membership. You're no good to them as a free member. They want you spending your money for the privilege of using their site. That's the long and short of it. The way they get you to upgrade is by manipulating you. They do that by creating fake profiles and making you believe they were created by gorgeous women who want to talk to you.
All you need to do is run a reverse image search to see what's going on here. The site is buying pictures from porn sites and using them to make the fake profiles.
Run a search and you'll see them all over the internet. It should always be your first reaction to getting the crazy number of messages that you get here.
You'll Get Tons Of Fake/Fabricated Messages
So they're creating fake profiles, but for what? Well, it's to send you fake messages. They use those profiles to send automated messages to all of the free users. Your inbox will be full, but you won't be able to see what the women are saying. It's maddening, to say the least.
That's why men end up upgrading to premium profiles. Once they read the messages and respond, though, they never hear back. The site already got what it wanted from you. The women were never real. It's was all just one big scam and you just fell for it.
Conclusions: True Booty Call Is Nothing Worth Joining
True Booty Call doesn't deserve your time. It certainly doesn't deserve your money, either. It's only there to scam you. They create fake profiles and send you fake messages. They only want you to upgrade your profile. After you do that, it's all over.
You'll never talk to an actual person here. It's a total waste of time and bigger waste of money. Don't bother with it. Just move on to a different site (this one) that might actually be real. That's the only chance you'll have at hooking up with someone.