Many sites claim to be the ultimate dating hot spots. They claim that they are the best amongst the rest. To a certain extent, Ultra Sex Book makes those claims and they do so with confidence. Find out whether or not they're telling the truth about all of this. I'm here to tell you that UltraSexBook.com isn't the ultra hookup network that you think it is. Remember, we've reviewed hundreds of sites, so we for sure know what works and what doesn't.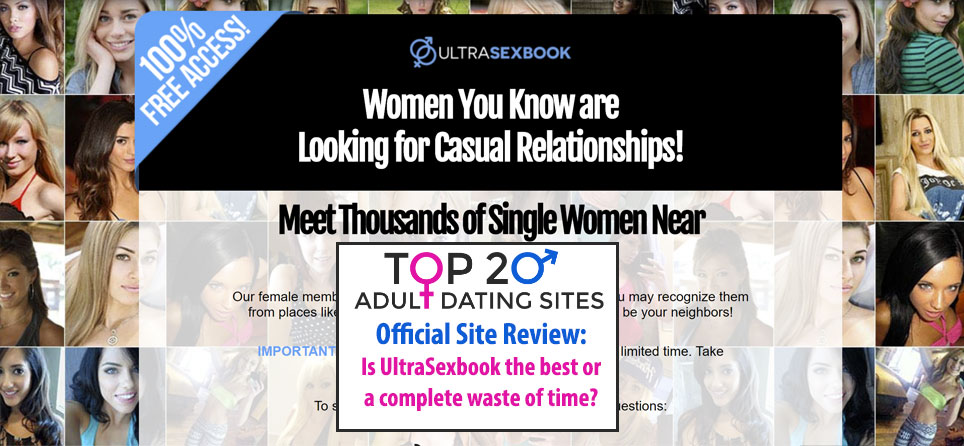 Ultra Sex Book Scams You In Multiple Ways
There are a lot of scams on the internet. It's just the way that it is. There's always someone willing to come up with a way to steal your money from you. Most of these scams come in the form of dating sites. It's a very easy way to convince people to hand over their money. If someone is looking for sex online, they're not really going to look too deeply into the details.
If they did, they'd see that they're just being taken advantage of. That's what's going on with Ultra Sex Book. This is a site that goes out of its way to scam you in any way that it can. It's a site constantly claiming that it's free. Nothing could be further from the truth. If you end up falling for this scam, you're going to lose a whole lot of your hard-earned money.
You Get Signed Up For Porn
No matter how many times this site tells you that it's free to use, they still need your credit card information for some reason. They claim that it's to verify your age, but that's a lie. It's always a lie, in fact. Any time a site says that it needs a credit card to verify age and sometimes D.O.B., you're being scammed.
No site ever needs a form of payment as verification. The reason they want it is to sign you up for multiple porn sites. It's in the fine print of the payment page. You're preselected for them and you have to find them before you can deselect them.
They make it very hard. Once you enter your information, you'll be spending hundreds of dollars on a monthly payment to sites that you don't even know you've bought your access to.
The Profiles Are Far From Real (IMHO)
After you get scammed with the porn site's signup, you're going to start getting messages. Even though you've bought access to the porn sites, you still haven't upgraded your access to the dating site. The site is going to start sending you fake messages from fake profiles right away.
You won't be able to respond to these messages unless you pay the site again to upgrade. Once you do that, all of the messages will stop. The site just doesn't have to send them to you again. They've already gotten your money and that's what they wanted from you.
Conclusion: Stay Away From Ultra Sex Book
There's no reason for anyone to ever enter their payment on this site. It's just going to be used to scam you. You're going to lose a whole lot of money on it. You're never going to be able to get it back.
You're also going to be getting charged the same amount every single month. It can cost you thousands of dollars and you'll never talk to a real person here. There are no women on this site and there never will be. Just stay far away from it and save your money.
What Works Then?
Well, there are lots of other sites that work out there. The one that you need to use these days are those that are fully transparent. Sites like Fling and Instabang are totally legit, upfront, and worth buying. That is where I'd start if I were you to be quite honest.