Have you been spending time using escort forums instead of dating sites? If so, then you need to know about the USA Sex Guide. I've created a whole review of USASexGuide.nl, which is the new version of the dot com site. They changed the domain for legal reasons I believe. That said, you need to know about it and why it might be best to use for certain things and avoid for others. Here is a complete rundown of everything related to the site.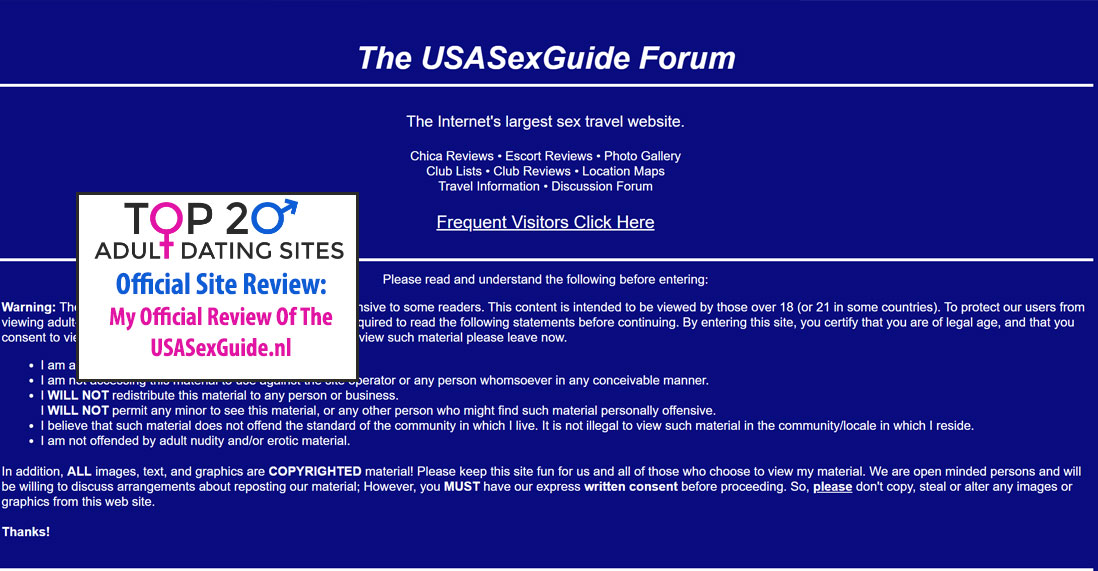 The USASexGuide Review
USA Sex Guide is a great way to get all of the information that you need on adult entertainment. You can read all about strip clubs, escorts, or just talk about sex with the other members. There are currently over a half million people who use the site and post reviews while they talk about all things sex.
It also lets you share photos, share travel information, and send private messages to the other users. It's free to use, but some of the features are only available to paid members. You can also check it out all you want before you register an email address.
Membership Types
There are four different membership types on the site. Most of them are based on the amount of time that you've spent on the site. The first is the member awaiting email activation. These are all of the members who have given an email address but not yet confirmed it.
They can check out the site all that they want, but they won't be able to participate in anything. Next are the regular members. These are members who have access to all of the basic services. They can upload photos and message any of the other members. They can also post on the boards (similar to TNA Board). Then there are the senior members.
These are regular members who have been using the site for more than six months and have made more than 25 contributions. Finally, there are the unmoderated members. These are the senior members who have followed the rules. They have the ability to post on the forum and not have to wait for them to be approved before the other users can read them and respond to them.
Features For Members
Members of the site get access to all of the features, whether or not they're moderated. Members can submit reports on places and escorts, contact other members and suggest new topics for the forums.
They can also exchange contact information, organize group meetings, and place classified ads. They also get access to the list of abbreviations on the site, the "What's New" section, and the cams section. There are also plenty of articles to read, as well as jokes posted by users.
All major cities are included in the site, as well as some smaller ones. No matter where you are in the country, you'll be able to find important information on the nearby area.
Conclusion: USA Sex Guide Is A Great Escort Site
No matter what you're into, if escorts are your thing, then you should be using USA Sex Guide most likely. It's going to have the information that you need to find the best adult entertainment around you. It doesn't matter if you're looking for a strip club, cam site, or an escort.
This should be your very first stop to get everything you need before you head out. Try the site the next time you're in the mood for a little fun and you won't be disappointed by what you find waiting for you.
However, if you're more interested in finding a casual dating partner (one you don't have to pay) then you want to check out my homepage for my top 20 list.