I'm typically not the vanilla type of guy when it comes to dating and casual sex. In fact, I'm anything but vanilla! However, when someone told me to check out the Vanilla Umbrella site, I took it upon myself to do and and I'm glad that I did. Find out all about the site right here…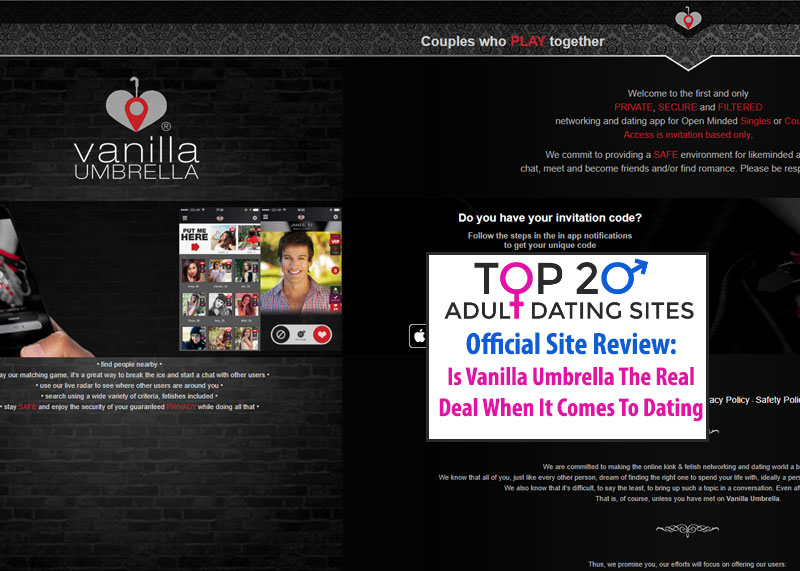 My Review of the Vanilla Umbrella Dating Network
Vanilla Umbrella is an extremely safe way of meeting your next swinging partners. They have a lot of different rules to make sure that the app functions the way that it''s supposed to. As long as you follow those rules, you''ll have a place where you can really explore your swinging nature. There''s one drawback, though. The user base is not large by any stretch of the imagination. That''s due in part to the stringent safety protocols. Although you can download the app whenever you like, that doesn''t mean that you can join. In order to do that, you need an invitation. That''s something that can only come from an existing member.
If Swinging Is Your Thing…
You essentially have to already have some familiarity with the swinging scene in order to get yourself involved. If you happen to be a newbie to it all, you're probably not going to be getting in and that has a real effect on the availability of the service. If you do know someone, though, you're going to have a pretty good time with it. Things are kept very orderly and the site always focuses on real couples that want to get together with other couples to have a good time.
Must Keep It Clean
The people who run the app like to keep things decent. This means that there's a strict rule against nudity and vulgarity. You won't come across any profiles with naked pictures posted on them. You also won't have to read any details about what certain couples like to do in the bedroom.
While you can be creative, if you cross the line, you're risking being kicked off of the site. With how difficult it is to get on in the first place, that pretty much means that you'll be gone for good. If you want a site with a classy approach to swinging, this is it.
They Care About Privacy
The user interface is great and comes with its own safety precautions. If you leave the app open for too long without using it, you'll get a screen that covers it up. This greatly helps to keep other people's eyes off of your private affairs.
You''ll have to manually remove the screen in order to get back into the app. It's one of the safest apps around and it takes your privacy very seriously. That's important when you're dealing with a subject like this. There's no need to go around telling your secrets to everyone in the world.
Conclusion: Vanilla Umbrella Isn't A Bad Swingers App
If you know someone who''s already on it, then you should definitely check out Vanilla Umbrella. If not, then you might want to check out this fling.com app instead. The only thing that's going to underwhelm you is the user base. You''ll have to put some time and effort into meeting a couple. If you're willing to do that, then you're going to have a good time.
They could simply open the flood gates and let everyone in, but that would ruin part of the appeal. Feeling like you're part of a secret group of people is a lot of fun. You should definitely give it a shot.