I spend majority of my time writing about dating sites, specifically those of adult nature but today is different. I'm covering a topic that us men simply don't get deep enough in majority of the time – pun intended. Yes, I'm referring to erectile dysfunction (ED) issues.
Though it is still seen as an embarrassing topic these days, many men struggle to get and maintain an erection. This issue effects millions of men a year, and studies show that one in five men have suffered from some form of erectile dysfunction over the course of their lives. Yes, this is a relatively common issue and many men are uneducated about the causes and effects of erectile dysfunction, otherwise known as ED.
Look, if you are actively dating and you're not doing anything about your ED issues or troubles, then you my friend are in trouble! Let's not get ahead of ourselves just yet though. First, allow me to cover why men today are having so many issues with ED.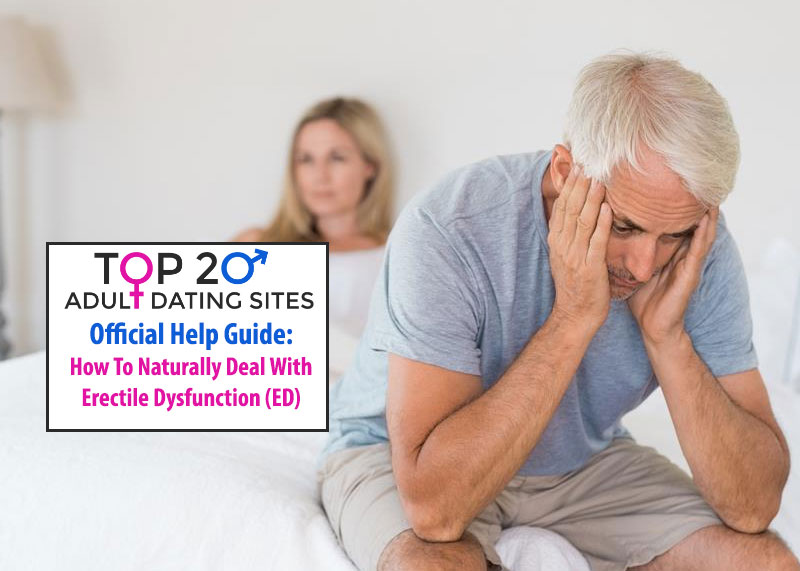 The Main Reasons Most Guys Have ED Trouble (Regularly)
It's common knowledge that sexual performance is often "all in your head" and studies show that one of the most common causes of performance issues is emotional distress. Mental and emotional dynamics can play a large role in performance, and often men transfer anxiety from other parts of their life into the bedroom. If your work life is chaotic, you are having money troubles, or other relationships (including online date are taking a toll or your mental well-being, it becomes difficult to perform when the time is right.
You don't believe me? Trust me, I know what I'm talking about as I'm not only the president but also a client. Well, I've had my own issues in the past is what I'm trying to tell you. One thing that plays a big role in it is…
Poor Life Choices
If you're someone who throws caution to the wind and you're  the one making poor lifestyle choice in regards to their overall health, the effects often show up when it's time to perform. For those who abuse drugs and alcohol, performance anxiety may come into play in a variety of ways.
Besides a direct physical injury to your manhood, this is often the most debilitating issue when it comes to sexual performance. Men who are heavy smokers or drinkers, tend to have performance issues either when on the substance or off the substance.
Maintaining a certain level of physical fitness is also paramount in maintaining sexual performance. Men who are overweight, underweight, or do not maintain the proper caloric intake on a day to day basis, may find that they have trouble rising to the occasion when the time comes.
Medical Conditions Play A Part
Medical issues that end up rising from these conditions mentioned above often perpetuate anxiety issues and stamina. A variety of heart diseases, including atherosclerosis, is often noted as a strong indicator of erectile dysfunction, as well as making you more likely to suffer from a heart attack or stroke. In that same vein, man prescribed medications have unintended consequences that contribute to men's inability to perform.
Allergy medications, antidepressants, and even blood pressure tablets have been known to make it problematic to maintain a strong and lasting erection. Those who are on a cocktail of medications often complain about sexual performance issues, especially when it comes to maintaining stamina.
It's Treatable
These days, there are a variety of options to help treat ED. The most consistent bet is to establish healthy lifestyle habits, identifying and utilizing stress relievers, and staying fit.
However, since Viagra became available over the counter, many men have decided to go straight to the pill to try and solve their erection woes. While Viagra has a lasting reputation as an effective tool against ED, it doesn't come without side effects.
Side Effects of Using Viagra
Some consumers have complained of dizziness, blurred vision, nausea, and hot flashes when taking the little blue pill. They are able to maintain an erection, but at the detriment of their health.
Also, Viagra's aggressive performance style–it results in a rapid, consistent erection– is not always convenient when one has a long date night ahead and does not know when the magic may actually begin to happen. As a result, many natural alternatives to Viagra have become very popular amongst those looking to treat erectile dysfunction.
What Are Your Options – Naturally, Of Course?
Here's a rundown of some of the most natural options for those looking to maintain an erection and overall penis health – you know, the kind that you're proud to take a selfie while erect.
One of the most popular natural supplements is horny goat weed. True to its name, this supplement with Chinese origins is popular with those who don't want too much of a kick in helping with their sexual performance.
Horny goat weed puts you into a relaxed sexual mood that should help with anxiety issues and boost confidence for the task at hand. A typical dosage is about 200 mg, and taking it about ninety minutes before you have to perform is your best bet.
For those who want a stronger natural alternative, L-Arginine is incredibly popular on the ED market. This is because of it's effects in expanding blood vessels to help provide bigger and stronger erections.
This amino acid works much like Viagra in that in provides a near instant boost and rush that will keep you performing through the night. However, if you have non sexual plans before or after, this choice may not be the best option for you.
One of the lesser known alternatives is Maca. This Peruvian staple has a long history of being an incredible boost to male stamina. Modern medicine has backed this up, as numerous studies have proven that Maca is a unique aphrodisiac that helps in every aspect of penis health.
Not only does it provide longer and stronger erections, but it boosts both seminal volume and sperm count. This is a great choice for those who have fertility issues and would like to conceive.
Looking to got strong AF right out of the gates? One of the strongest natural options is Korean Red Ginseng. This Asian root is excellent in boosting energy and blood flow, and many studies have backed up it's cultural claim of providing heightened sexual desire and performance.
However, it's best used in a two week on and off cycle, and is better as a long term lifestyle enhancer, as opposed to a single night performance booster.
Conclusion
Regardless of your ED problems, men need to know that there are many options out here that will allow you to have the best and biggest erections of your life! You just have to make the right choice for you and your body, and understand that overall health maintenance, both physical and mental, is the best way to maintain peak performance over the course of your lifetime.
If you're having issues and you need advice, feel free to reach out to me. Just remember, I'm not a doctor and I can't give medical advice so it shouldn't be taken as such. It's simply my personal opinion.