We've spent a lot of time reviewing sites here. All of the information that we can dig up is always laid out for you in order to help you decide which ones can work for you. As it turns out, quite a lot of the sites we come across are scams.
I'm sharing what I know with regards to these scammy sites…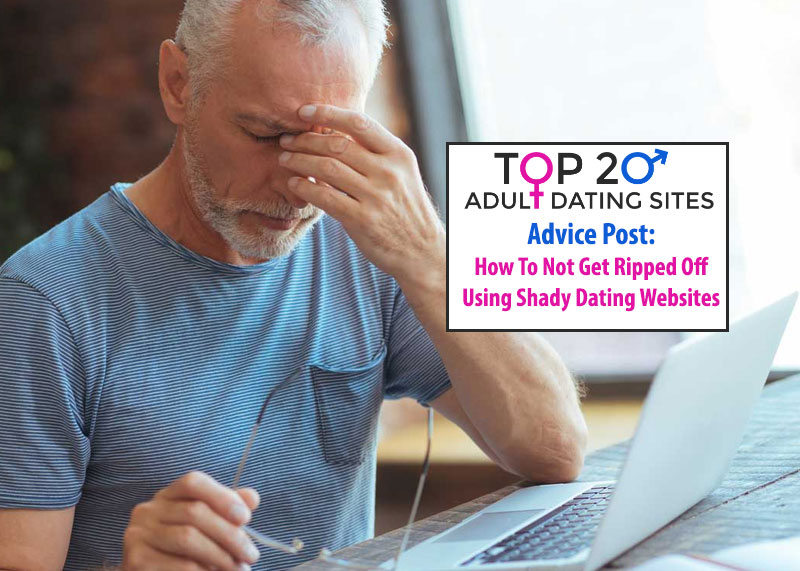 What To Know About Scammy Dating Sites
They're designed to get as much money from you as they possibly can without offering an actual service. Sometimes they blatantly try to rip you off by lying about the money you're spending. Other times they hide their true purpose way down in the terms of service. Most people never even take a second look at the terms before they agree to them. It's natural to just skip over the clues in your pursuit of a way to talk to potential hook ups.
Here's a quick rundown of the things that you should be looking for in any dating site. They're the tactics that we most often come across.
Creating Fake Profiles
This is something that pretty much every scam site out there does. The people who run it will create totally fake profiles to lure you in.
They always follow the same MO. They get pictures from porn sites or social media platforms across the internet. Sometimes they'll even take pictures that real people upload on their other sites. If you join a site that assumes ownership of any image you upload, you yourself could be used on a fake profile somewhere. These account are then used to send messages to new, free users. One company that does this is Instafuck.com.
If you want to learn more about fake profiles, I covered a ton in this article.
Choosing Options For You
Another common practice is to give you the option of upgrading to a paid VIP membership when you sign up. The offer is always in very small print and hidden away on the page. It's also always preselected. If you don't know what to look for, you're going to be signed up for a recurring monthly fee without even knowing it.
Employing Spammers
Finally, we come to another fine print tactic. Lots of sites will actually pay people to talk to you. They'll send you messages as soon as you sign up and entice you into upgrading your membership. It's always necessary to respond to the messages.
The conversation will seem real because you're talking to a person rather than a bot. They're just not who they say they are. Companies will often tell you that you'll be contacted by employees in the fine print. They'll give a reason like "promoting engagement," or something, but its' really to trick you into upgrading.
Not Opening Up Features
Most of these scammy sites hide features or portray as if they have some amazing features that you need to unlock. They convince the user to join and that they're only going to meet someone if they upgrade. Well, that's hogwash and a bunch of crap.
This is just another scam to be on the lookout for in my humble opinion. You should be able to hookup without the upgrades as they're just there for better experience on the legit sites, period.
Messages
Be on the lookout for filthy messages from women. Keep in mind that most women will not just send you dirty messages without connecting with you first. This is what they do to convince you to join and upgrade. Most of the time it's not even a woman on the back end but a bot or auto messaging system in place handling everything.
Conclusion: Know What To Look For
The best thing you can do for yourself is to read out reviews and learn what to look for. It's the only way to keep yourself from getting scammed. There are real hook up sites out there. You just need to know what to look for. We're here to help you find them and to let you know when you're walking into a scam site.
Now, you're probably wondering what on earth site is safe to join then, am I right? Seriously #amiright? I know I am and I'm going to share all the best sites for you to join today. You can find the full list of the top dating sites here and know that I 100% vouch for those on the list. If you have any questions or concerns, just reach out me me please.